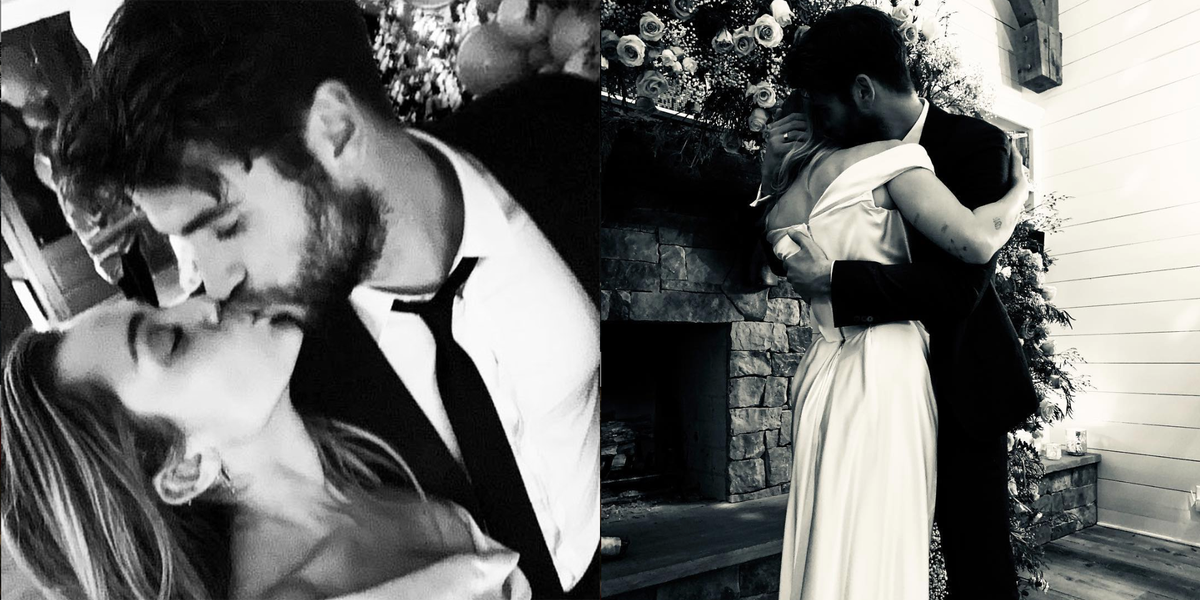 It was an extra Merry Christmas for Miley Cyrus and Liam Hemsworth this year. After dating on and off for 10 years and being engaged twice, the two finally tied the knot on December 23rd.
We don't know too much about the wedding, other than that it was a small and intimate affair that took place at the couple's Tennessee home with a few family and friends.
The couple posted some sweet black and white photos on Instagram, and Liam can we seen wearing a casual tux and white sneakers, while Miley wore a Vivienne Westwood gown.
Other Instagram pics and videos from the small ceremony show Miley dancing to Uptown Funk in her wedding gown and Liam doing shots with his brothers. Large "Mr & Mrs" balloons are shown as decorations in their home, and all of Miley's brothers and sisters appear to be in attendance as well her parents Tish and Billy Ray.
Miley and Liam first got engaged back in 2012, only to break up in September 2013, when Miley went through her club kid meets white Snoop Dogg fan girl phase. Great music, tragic outfits.
After Miley got over wearing glittery weed leaf costumes with strap on dildos, her and Liam got back together in January 2016 and she started sporting her engagement ring again not long after they reunited.
All in all, getting married is definitely a great way for the couple to end a pretty tragic year, given that they lost their home and all their possessions in the California wild fires not too long ago.
I'm super happy to see these two finally get married, because, deep down, even when Miley was the hottest fucking mess in show business, I was always kind of rooting for them.
Also, I'm happy to end my 2018 year of blogging on a happy note, because I'm going to be taking a couple of days off now since I've been blogging exhaustingly out the ass this month, and deserve a little break.
With my luck, Beyonce will drop a new album or announce a new pregnancy, or Kylie Jenner will get engaged in the next few days. But either way, thanks for a fun year of blogging, and I'll see you guys on January 1st! And by "see" I mean grace you with a new trashy pop culture blog.