Well, Orlando Bloom asked Katy Perry to marry him and she said yes. If you think this is going to be a blog discussing their relationship, you'd be wrong.
Instead, I'd like to discuss how fucking annoying I think Katy Perry has become, and how Taylor Swift is clearly a witch, because the way Katy went from hot to hot mess and Kanye went from cool to crazy is some serious white girl voodoo shit. Yeah, this blog is going off the rails fast.
Orlando Bloom is a mega hunk, but for some reason has decided to marry the most annoying, over the top white woman on the planet. Case in point: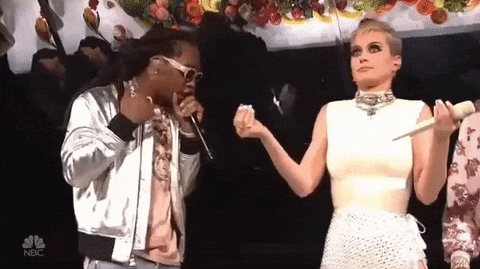 I was really on Katy's side in the whole Taylor Swift versus Katy Perry feud until a) Katy decided to change her look to "Bargain Basement 2013 Miley Cyrus", and b) she out-whited Taylor with her atrocious efforts to look cool.
It's kind of crazy how far Katy and Kanye West have fallen in regards to having any of my respect. It's almost like SOMEONE cursed them and made them start acting like lame, manager calling, bad dancing, white people. Which is funny, because those are also things Taylor Swift has been accused of being. Hmmmm….this sounds like some rich white girl Voodoo shit if I've ever heard it.
Anyway, congrats to Katy and Orlando. I don't really care.